Rebecca Loebe is known for her distinct voice, well-crafted songs and ability to bring an audience to her journeys and introduce them to the characters she meets along the way.  Loebe's work spans from catchy pop/rock to confessional Americana/country and her travels have created a fan base around the world. In Three Nights Live, (release date August 5, 2014), Rebecca teams up with fellow touring Americana artists Smokey & the Mirror and Raina Rose, and further demonstrates her talents by directing a unique performance project and producing a suite of live albums with the resulting recordings.  The album is Rebecca's 4th full-length release and showcases the songwriting and performing chops of all three acts in a traveling ensemble production.
Part of Goose Creek Music's ongoing series of live album releases, Three Nights Live was recorded in November 2013 at three classic listening-room venues in Texas and Oklahoma: McGonigel's Mucky Duck in Houston, The Cactus Café located on the University of Texas' Austin campus, and The Blue Door in Oklahoma City.  Rounded out by studio musicians Daniel Walker and Will Robertson, Three Nights Live features original songs from four songwriters, and a few surprising covers ranging from folk and country to Motown and grunge.  Goose Creek personnel toured with the artists, recording multi-track audio and video of each performance. A web video series about the sessions and the artists' lives as touring musicians was released simultaneously with the album, along with individual EPs for Rebecca and Smokey & the Mirror featuring additional performances from the tour.

Rebecca travels extensively throughout the US and around the world – in 2014 alone she has already performed dates in Holland and Japan! Rebecca's warm and inviting aura radiates through her music, making her live performances an unforgettable experience. Her deep empathy and lyrical portrayal of characters from all walks of life bring audiences along on her journeys through love, geographic displacement and yearning.
Goose Creek Music captures high quality audio and video recordings of original Americana music by emerging artists. We specialize in recording live performances with exceptional audio detail. Our recordings are released as CDs and digital downloads, and are used as soundtracks for our music videos and DVD collections, which we broadcast on local television and distribute via social networks like YouTube, Facebook, and Twitter.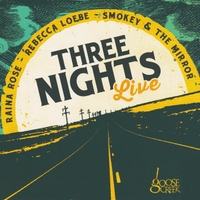 Purchase Three Nights Live
Three Nights Live from Goose Creek Music is available from CD Baby, iTunes, Amazon.com and other online music vendors as a download or physical CD.
Rebecca acted as director and producer for the Three Nights Live project, booking the venues, working with all of the artists on songs and arrangments, and working with Kevin Szymanski at Austin's 12th Street Sound to mix the albums.  Rebecca continued her heavy tour schedule while all this was going on…we don't know how she did it all!  In 2014 so far, Rebecca's appearances have included tours of Holland and Japan, The Kerrville Folk Festival, the Woodie Guthrie Folk Festival, and many others.  You can keep up to date on Rebecca's tour schedule on her official website at www.rebeccaloebe.com.
Artist Facts:
Rebecca Loebe was featured in season one of The Voice where she was offered mentorship by both Adam Levine and Christina Aguilera for her performance of Nirvana's Come as You Are.
In the past four years Raina Rose and Rebecca Loebe have performed over 200 shows together throughout the United States.
Three Nights Live includes new, unreleased songs from Rebecca ("Lie") and Smokey & The Mirror ("Goodnight Lorena") and a full-band performance of the Raina Rose song "Act of God," which was previously only available as an acoustic B-side.